Latest Company News
BBatHome
Posted: 2020-04-28 by Waterlooville BB Admin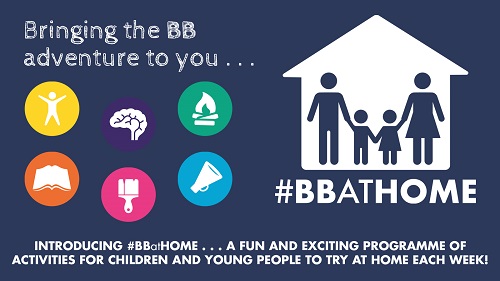 With our company activities suspended The Boys' Brigade have developed and released a new programme of activities you can do at home.
Released every Friday during the Coranvirus Lockdown, we hope that our members are able to utilise the resources created. Described as:
BBatHome is a new programme to enable The Boys' Brigade to continue to reach out and engage children and young people with a fun and exciting programme of activities with opportunities to learn, grow and discover in their own homes supported by parents/carers.
All the resources are available on The Boys' Brigade Website with guidance for parents included.
We hope to be able to present awards to our members, both for completing different activties and helping them to complete their programme achievements so if any of our members or friends complete and use the activities please get in touch with us via email or our social media channels.
Archive News
You can find our news archives from recent years by selecting the links below.