Latest Company News
BB at Home - Week 1
Posted: 2020-03-23 by Waterlooville BB Admin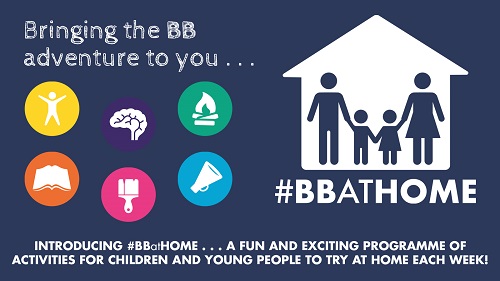 The Boys' Brigade have developed a new programme called BBatHome to help support and engage young people during the Coronavirus outbreak in the UK.
Parents should have all received a mail with the relevant material for you to try at home with the boys and rest of the family. Based on the new programme sections the activities include something that encourages everyone to "Get Active, Get Adventurous, Get Creative, Get into the Bible, Get involved in their community and the world around them and Get Learning."
Each week the content will be mailed round and posted here. We'd love to hear how you are getting on with it, see some examples on our social media and remain connected with you while we cannot meet together in person.
Here are the materials:
guidance for parents
which we would encourage you to read and there is more information on
The Boys' Brigade website
Archive News
You can find our news archives from recent years by selecting the links below.