Anchor Section
The age range of the Anchor Section is from 5 to 8 years old, with boys usually starting in the school year following their 5th birthday.
Being in Anchors is all about having lots of fun, building skills and playing in an active way.
What do we do?
The Anchor programme has 6 Activity Areas:
Get Active
Get Adventurous
Get Creative
Get into the Bible
Get Involved
Get Learning
The weekly meetings and other activities have a lot of crafts, stories, and games to experience. We also try to add visits to local places of interest such as shops or our public services where possible.
Awards
Who doesn't like to being given awards? Our programme is structured in a way that everything we do goes towards our achievements. At different times of the year we can be awarded our badges and we have a special celebration awards and display evening at the end of every year where we can show our parents what we have been doing. Upon joining Anchors all boys work towards their Anchors Membership Badge which can be achieved quickly after starting. They can then continue to work towards their main programme badges, which are:
There are other special awards we can gain as well as these such as the 'Make a Difference' award and recognition for introducing friends to come and join.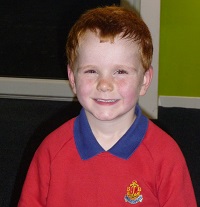 Uniform
Our uniform consists of a red Boys' Brigade jumper and blue polo shirt with grey or black trousers and black shoes. Your school trousers and shoes are perfect. You will also get an armband so that as you gain your badges you wear them on your sleeve.
What does it cost?
Our subs are £18 per term. There is a charge for the uniform which is the cost price from the suppliers, normally £15 to £20 for a jumper and polo shirt. This said, we don't want any child to miss out because of cost, so if you have any concerns about finance please speak to a leader. We often have a supply of good quality used uniform available at a cheaper rate.
How do I join
Joining is easy. The best way is to come along and see us one Monday and meet the boys and leaders to see what we do.
You can get in contact with us to let us know or if you have any other questions. We will look forward to seeing you.